Well, it's January, so everyone is posting a farewell to 2017.
"Duh, just another post on predictions about the new year!"
– you might have thought, but that's not the case for this post. I investigated the contemporary usage of global penetration with adblocker tools and wanted to share my findings.
My company, Brainsum, is a reputable Drupal service provider in Europe, specializing in highly customized open-source solutions for enterprise-grade clients. In Brainsum's 15-year-history as an online agency, our team has gained a deep understanding of online marketing, e-commerce, and advertising systems. Our focus remains fully on development, programming, and other tech-related services.
Shedding some light on our background may answer those readers wondering why on Earth we are dealing with this adblocker topic. Well, a couple of reasons:
It's not only about advertisements! As we've worked with many large organizations over time, we've recognized we sometimes face challenges beyond the scope of coding. For the case of a Nordic IT-giant, we realized that loading CTA forms (via Drupal 8) served by Marketo platform occasionally gets suspended by ad blockers. With this in mind, we began informing visitors about the lack of feature:

Screenshot of our client's one-page landing site showing activated adblocker detection alert.

Utilizing GTM: later on, in Google Tag Manager, we set up conversion tracking as dozens of advertising campaigns were being run on multiple ad platforms while reporting back to Data Studio.
 
Differentiating channel traffic: in another situation for IOTA, the Intra-European Organisation of Tax Administrations, we offered deeper integration of tracking back auto notification emails sent by Drupal and channeled them into Google Analytics. We did so by translating the encoded utm_ tagging into human-readable descriptions that appeared in reports.
 
Analytics is key for our clients. We are building systems with integrated A/B testing whereby important decisions are made based on analytics. These are, in most cases, also blocked by ever more popular adblockers.
As you can see, it has key importance to keep an eye on the current state of adblocking products in 2018 are of great relevance to us here at Brainsum. Here's some info I came across:
Statista is a great hub for all seeking inputs for data-driven evaluation in almost any topic. Of course, many of the datasets are offered as exclusive premium content only. However, there are two charts I'd like to open with:[1]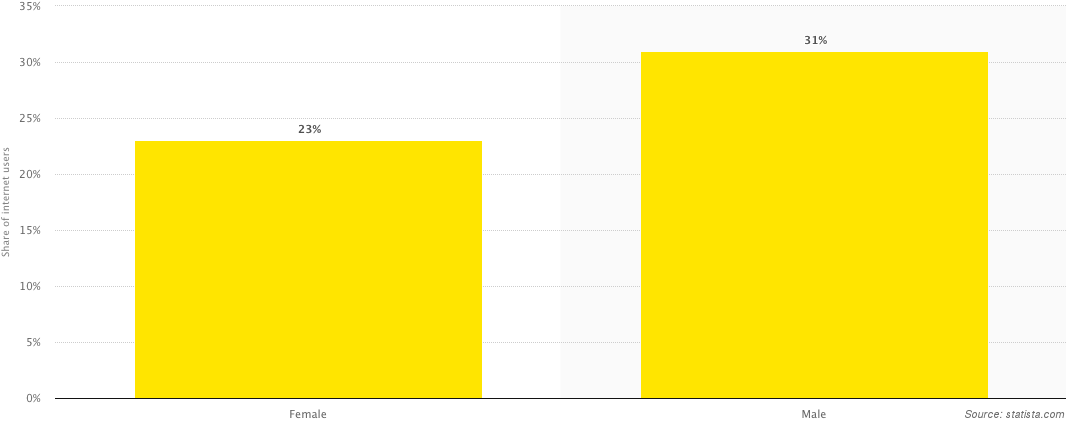 As the previous chart is from Apr – June 2015, the next one is a bit more recent from Dec 2016. It's still from the same portal, so its source is unknown as well, unfortunately:[2]

Number of active desktop ad block plugin users worldwide from January 2010 to December 2016 (in millions).
The most recent one among these from Statista website:[3]

Share of respondents that used ad blocking software in the United Kingdom (UK) as of February 2017, by type

 
To balance out Statista's numbers here are some quick facts about the current state of ad blocking:[4]
34%
more people used adblockers in 2016 than in 2015.
80%
of smartphones users are projected to use adblockers by the end of 2017.
200 M
people use adblockers globally.
40%
of users say they use adblockers because they're "tired of being bombarded" by ads.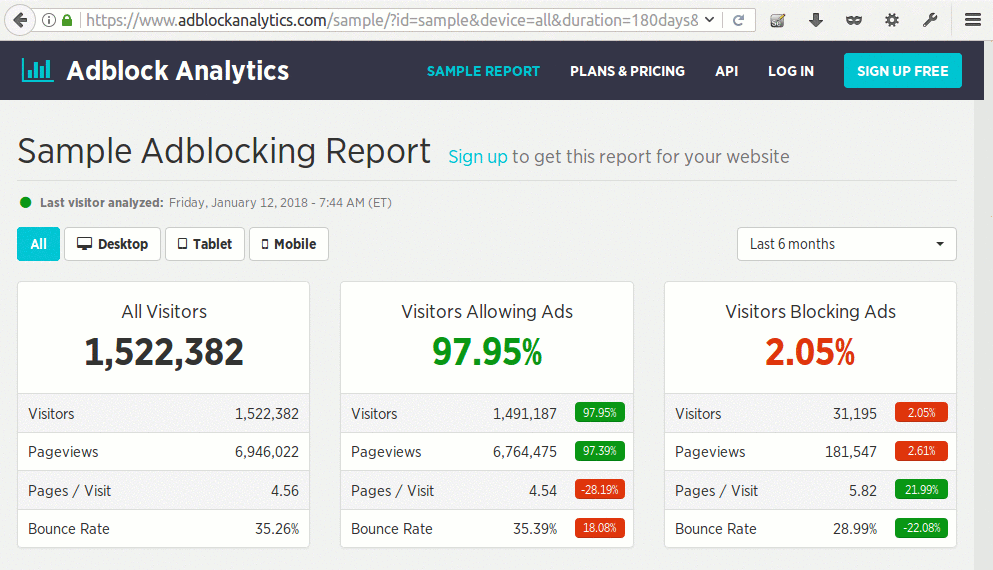 Now let's see the big picture from a different aspect. Adblock Analytics is a specialized online service offering automatic measurement and analysis to media publishing site owners in a subscription model. In hope of convincing future prospects, Adblock Analytics publishes a sample report[5] on their own homepage. Taking into consideration their possible target groups (most probably online media experts with some level of tech skills) these numbers can easily be biased to a large extent at both ends of the spectrum, so I don't think they depict a globally balanced image overall.
Interactive Advertising Bureau (IAB) is the lobby group of the online advertising industry, considered to be one of the most competent organizations on the topic in question. Naturally, they're also highly interested in the current status of overall adblocking trends. They performed intensive research combined with live labor tests and surveys to better understand users' viewpoints. Professional journal AdWeek interpreted a segment of the findings in their article[6], providing some charts as well. Their final verdict proclaimed 26% of desktop users.
They're not the only ones researching the subject. The anti-ad-blocking solutions provider PageFair found that penetration is around 11% globally. Their full report is publicly available in the form of a detailed presentation.[7]
However, in addition to the previous resource by IAB, PageFair pointed out one extra insight: media publishers only weapon to fight back against adblockers, the paywall method, doesn't seem to work anymore at convincing visitors to stay and pay for content.[8]
A clear sign that a new industry is emerging on the anti-adblocker market is that more and more brands appear to offer solutions to measure the blocking of ad delivery. Beside the above mentioned Adblock Analytics and PageFair, Secret Media[9] and Sourcepoint[10] are also competitors in this race. Another one, ClarityRay also researched the topic and published its findings. After being acquired by Yahoo,[11] this report has since been revoked, but a copy is still available on SlideShare.[12]
Just like this kind of service providers and consultancies spawns, adblocker browser extensions also mean a growing set league of players. So finally, let's take a look at the technical background and which adblocker extensions are most popular. Although Econsultancy's article is not that fresh but sheds some light on the growth of emerging adblocker software.[13]
Distinguishing two phenomenon
Blocking advertisements and incorrectly measuring traffic certainly relate. As many of these adblocker browser extensions automatically subscribe to popular blacklists, we should go beyond the brand names of plugins, but focus more on these EasyList, EasyPrivacy, Peter Lowe's ad/tracking/malware servers, various lists of malware sites, and uBlock Origin's own filter lists. A quick scan through them reveals that many contain patterns to filter out domain names of Google Analytics, Tag Manager, Piwik, and other traffic statistic solutions.
Chances are that you as a site owner or your client can be easily affected by the increasing popularity of adblockers even if the site's main business model is not based on generating income from displaying advertisements. For instance, as a maintainer of an intranet platform, you may want to be up-to-date on the usage rates of adblockers in order to better understand why end-users does not show up in Google Analytics.
Appendix
In my post, I really tried to focus purely on numbers and technical stats from an objective viewpoint. Yet, during my research, I realized how shareholders advertising can be so emotionally invested in this topic. Their pressure group, IAB, feels the tension and is actively lobbying against the increasing popularity in adblocking. IAB's dedicated Tech Lab team recommends[14] site owners hold off on bombarding visitors with ads, but at the same time, IAB's senior vice president, Scott Cunningham also blames end-users as well calling them simply 'robbers'.[15]